Fall, 2017 Acupressure Workshops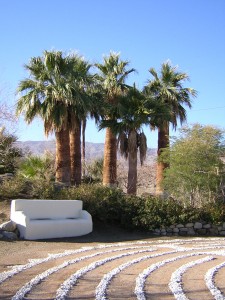 My fondest memories studying Process Acupressure with Aminah Raheem, PhD in Borrego Springs, California are of times spent there with her and my Soul Lightening International family. Located in the Anza Borrego desert state park, this pristine location brought peace and insights while in the natural world hiking, meditating, going on vision quests, and walking the labyrinth pictured above. Being in nature strengthened connection with my human nature, and daily sessions in workshops deepened and grounded new learning and insights about my soul journey. I'm honored to continue the work of Soul Lightening International bringing workshops to New Jersey.
Here's my Fall, 2017 scheduled workshops. Be sure to register early and take advantage of discounts and savings plans.
Continuing education for PA 1A (24 hours) and Seva Acupressure (3 hours Part 1; 3 hours Part 2) for nurses (AHNA), massage therapists (NCBTMB), Asian Body Workers (NCCAOM).
Process Acupressure 1A: Gateway to Soul, October 5-8, 2017, Manchester, NJ                                                                  (also Naples, Florida, November 16-19, 2017)
Process Acupressure (PA) is a simple, yet profound holistic method that combines traditional acupressure (to a fully clothed body) with a process approach to consciousness. It facilitates healing and the natural growth process that arises from within the individual. Process skills are taught that facilitate clarity in mind, emotions, and spirit. Soul centered development is emphasized. Although acupressure is a lifelong study, this course will empower you to work effectively with energy flow in the body including meridians and chakras. PA can be used alone for self-care or given easily to another and can be combined with other bodywork modalities.
This is an entry level workshop for professional health-care providers. No pre-requisites but participants who do not have a hands-on modality background are strongly encouraged to attend an introductory level workshop offered by Soul Lightening International, such as the Seva Stress Release.
Registration: 978-456-0300 or email: registrar@soullightening.com
Full tuition: $795
Early Bird (30 days prior to workshop): $695
Super Saver (60 days prior to workshop): $595
Foundation Certification: PA 1A and CA 1 workshops. Value Plan: $100/month X 12 months
*************************************************************
Seva Acupressure for Stress Release — Part 1 (self-care) and Part 2 (Using Seva With Others)
Through demonstration and hands-on practice participants will learn a 15 acupoint protocol that addresses a wide range of needs from general relaxation and well being to extreme shock and stress. Participants will learn a method of touch unique to Soul Lightening Acupressure, how to use an Awareness Journal, and Chakra Tai Chi, a movement meditation practice. No pre-requisites.
Ocean County College, Toms River, NJ: Saturday, October 14, 2017, 9 – 3:30 PM, $99. Registration: 732-255-0404
************************************************************
Seva Acupressure for Stress Release and Acupressure for Anyone/Cold & Flu Formulas — Ocean County Vocational Technical School, See Dates/Locations Below, all classes meet 6:30 – 9:30 PM, $50 per class, Registration: 732-473-3100 X 1000
Seva Part 1: Toms River, NJ Wednesday 9/13;  Jackson, NJ Wednesday Oct 11;  Brick, NJ Wednesday 11/1
Seva Part 2: Toms River, NJ 9/27;  Jackson, NJ Wednesday 10/25;  Brick, NJ Thursday 11/2
Acupressure for Anyone — Cold & Flu Formulas: Toms River, NJ, Monday 11/27
***********************************************************
Tags: