The Heart of Healing: Loving Self and Others

Happy Valentine's Day – "How do I love thee? Let me count the ways…."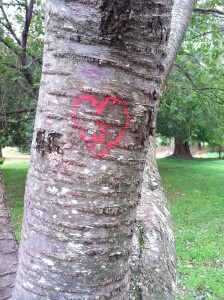 Elizabeth Barrett Browning touched upon love in her sonnet. We, too, are prompted to consider who and what we love on Valentine's Day.
Our ability to give and receive love is frequently lost in daily life as we face constant stress and change. Making time to love our Self and others becomes a challenge, yet one which can ground and deepen the connection with our heart and authentic Self. Valentine's Day is a reminder, but how do we live and bring what is at the heart of all healing, love, into our lives each day?
Self-care practices provide a key to increasing Self-awareness, living mindfully, and being present to give and receive love to ourselves and others. When I begin my day with the Self-care practice of meditation, I am more focused, awake, and aware throughout the day. Add a dance class and I come alive through movement and music that enlivens my body and brings joy to my soul. Time in nature, taking a mindfulness "breather," brings me home to my human nature, and I return to life as a human being NOT a human doing. And, in case I get too serious, laughter and play breaks lighten my whole being and change my perspective on everything and everyone.
Loving myself, through Self-care practices, ripples out and affects not only my health and well-being but the health and well-being of my family and all my relationships. These practices are like a cool shower on a hot day, after which I feel refreshed, revitalized, and awake to what each moment presents.
What Self-care practices do you use as a way to love and care for your Self?
Namaste…(the Light in me honors and bows to the Light in you)
Tags:
Valentine's Day Self-Care & Mindfulness